7-9 January 2020, University of Strasbourg- France
The ProtoMet Consortium organizes the Protomet Catalysis Winter School. The School aims to provide high-level training covering a broad range of topics in catalysis, prebiotic chemistry and chemical network design, integrated with cutting-edge applied research lectures. All the ProtoMet PIs will be present at the school to open a forum for international cross-disciplinary early career-specific scientist networking with student-led career development discussion panels.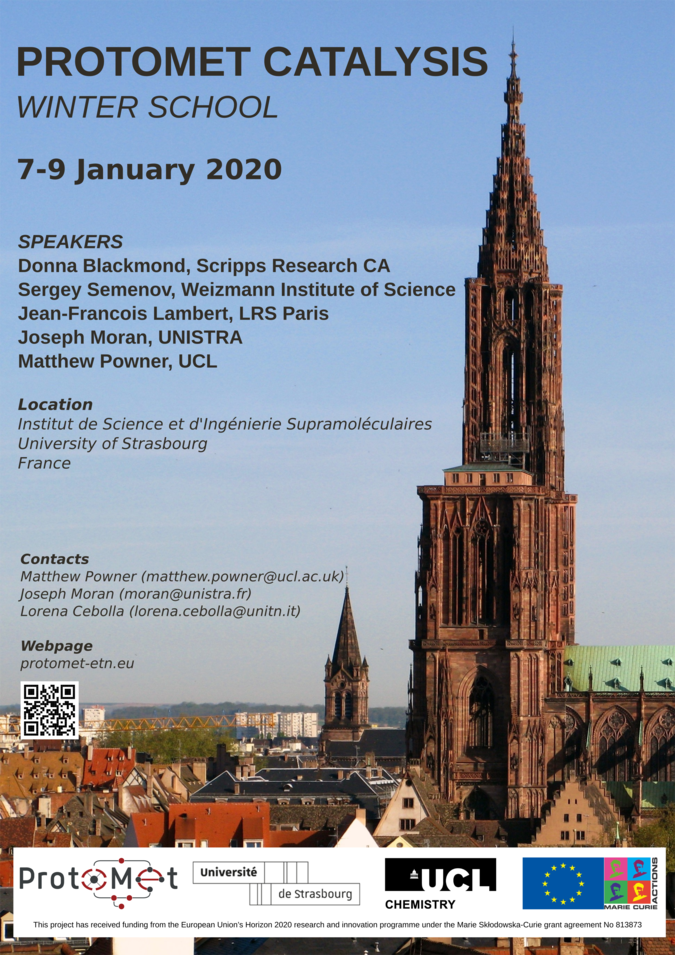 REGISTRATION IS OPEN!
Registration to ProtoMet Catalysis Winter School is now open until the 13th of December. The registration Fee to the ProtoMet Catalysis Winter School is 300 Euros. The fee includes coffee breaks and participation to the Winter School dinner.
To register participants have to make a wire transfer to CIRF (Centre International de Recherche aux Frontières de la Chimie), 8 allé Gaspard Monge, F-67000 Strasbourg, SIRET: 499 246 601 00011, indicating as transfer object: "name, surname +Protomet Winter School", to the following bank coordinates:
Banque Populaire ALSACE LORRAINE CHAMPAGNE
FONDATION CIRFC
70028
8 ALLEE GASPARD MONGE
67083 STRASBOURG CEDEX
IBAN: FR76 1470 7500 5870 2182 8100 936
BIC: CCBPFRPPMTZ
Code Bank: 14707
Code Guichet: 50058
Number Account: 70218281009
Clé rib: 36
Domiciliation/Paying Bank: AGENCE BANQUE PRIVEE
If your institution requires that a purchase order is issued from your end, please include the following information in your purchase order:
-To whom the order should be addressed: Fondation CIRFC
-Designation: Protomet Catalysis Winter School registration from 7 to 9 January 2020 in Strasbourg
-First and last name of the participant
-Price of 300 euros HT (tax-free)
To ask for an invoice for registration please write to annia.bertrand@unistra.fr
After payment, participants are invited to send an email of confirmation to lorena.cebolla@unitn.it
*Pursuant to the provisions of articles 12, 13 and 14 of the GPDR, EU Regulation n. 679 of 27 April 2016, the Parties declare that they have mutually informed each other and expressly consent that the personal data provided for the activity covered by this registration to ProtoMet Catalysis Winter School and / or collected as a result and during the execution of the same are processed exclusively for the purposes of performing the same and in compliance with current legislation, with particular regard to the principles of correctness, lawfulness and transparency and in compliance with current legislation with particular reference to that relating to security measures. Details of this Regulation will be sent after confirmation email.
ProtoMet Winter School Schedule
7th January 2020
8.30 – 9.00 Registration
9.00 – 10.30 Prof. Joseph Moran: Triangulating the conditions for self-organization of the primordial metabolism
10.30 – 11.00 Coffee break
11.00 – 12.30 Prof. Sheref Mansy: The role of iron-sulfur clusters in biological-like catalysis
Lunch
14.00 – 15.30 Prof. Sergey Semenov: Thermodynamics and kinetics of oscillatory reactions and other dissipative chemical systems
15.30 – 16.00 Coffee break
16.00 – 17.30 Prof. Sergey Semenov: Thiolate-based autocatalytic reaction networks
17.30 – 18.30 Meet the speaker
8th January 2020
9.00 – 10.30 Prof. Jean-François Lambert: Surface science, geochemistry and heterogeneous catalysis
10.30 – 11.00 Coffee break
11.00 – 12.30 Prof. Jean-François Lambert: Mineral surfaces in origins of life studies
Lunch
2.00 – 3.30 Dr James Attwater: RNA at the origin of life
15.30 – 16.00 Coffee break
16.00 – 17.30 Dr James Attwater: RNA-catalysed RNA replication
17.30 – 18.30 Meet the speaker
9th January 2020
9.00 – 10.30 Prof. Matthew Powner: On the chemical origins of alpha-peptides
10.30 – 11.00 Coffee break
10.45 – 12.15 Prof. Donna Blackmond: Do's and don'ts of kinetic modelling
Lunch
14.00 – 15.30 Prof. Donna Blackmond: Autocatalytic models for the origin of biological homochirality
15.30 – 16.00 Meet the speaker
Conference dinner
CONTACTS:
Joseph Moran (moran@unistra.fr)
Matthew Powner (matthew.powner@ucl.ac.uk)
Lorena Cebolla (lorena.cebolla@unitn.it)
To know more about the Speakers:
Donna Blackmond, Scripps Research CA
Sergey Semenov, Weizmann Institute of Science
Jean-Francois Lambert, LRS Paris
Joseph Moran, UNISTRA
Matthew Powner, UCL
This event has been organized with the collaboration of the Frontier Research in Chemistry Foundation